MY KIND OF GUY – GUY CARAWAN
MY KIND OF GUY – GUY CARAWAN
(July 27, 1927 – May 2, 2015)
Guy Carawan passed away at his home in New Market Tennessee last Saturday, May 2, 2015, sandwiched in between May Day and Pete Seeger's birthday. He was 87 years old. He would have appreciated the perfect placement in terms of the musical world he represented. Guy and his wife and musical partner Candie lived nearby the extraordinary school where he served as Music Director—Highlander Folk School (its original name) since the passing of founder Myles Horton's wife Zilphia Horton. Both Guy and Zilphia's (their original Music Director) names are on the copyright of their crowning achievement—We Shall Overcome. Having roots in African American hymns from the early 20th century, Zilphia had brought the song back from a tobacco workers' strike in South Carolina in 1946 and she and Guy shaped it into the civil rights anthem we know today.
The year before Guy became Highlander's Music Director in 1959, he helped Ed Pearl open The Ash Grove in West Hollywood at its first concert on July 11, 1958, with Pearl's guitar teacher Geronimo Villarino and blues singer Brownie McGhee. It was an auspicious opening and Ed has celebrated it ever since—proud that he had the foresight to invite the local folk singer who would become most personally associated with the growing influence of We Shall Overcome from 1960 on—when Guy performed it as the closing song to the founding meeting of SNCC, the Student Nonviolent Coordinating Committee. When Ed produced the 50th anniversary tribute to the Ash Grove in 2008 at UCLA, he made sure to invite Guy Carawan back to highlight the event—where he recaptured the best memories of the civil rights era by leading We Shall Overcome—at Schoenberg Hall. It was an honor to sing along.
Guy's role in shaping the song was far greater than just his timing in learning and singing it; he is the singer who slowed down an up-tempo spirited hymn into an anthem and found the right chords to enhance its slow build up to the indelible title-refrain that slowly spread around the world—as far away as Tiananmen Square in China in 1989, where it inspired Chinese students who were demonstrating for democracy and met with the tanks of "the People's Liberation Army." It was Pete Seeger who changed the original "Will" to "Shall" overcome. And my old guitar teacher and eventual Weavers member Frank Hamilton also added some of the original civil rights verses. That song was shaped by many hands, but it was Guy Carawan who created the essential musical setting for the We Shall Overcome we know today.
https://www.youtube.com/watch?v=Tftdes9dp-A
Guy and Candie were active participants in southern folk music that stretched from the jail houses of Alabama to the coal mines of Kentucky. Two of their most important albums document the coal mining ballads they picked up, organized and recorded from essential sources like Nimrod Workman, Hazel Dickens and Florence Reece, who wrote the coal mining anthem Which Side Are You On. Guy and Candie were the bridge between the protest songs of poor excluded African-Americans in the civil rights movement to those of equally invisible poor excluded whites in the coal mines of West Virginia. They preserved the "voices of the mountains" as one of their books describes them; and in their worldwide touring that went all the way to China they became the voice of what Michael Harrington called The Other America—the poverty stricken Appalachian inheritors of the British-American folk music that was one of their most precious assets—the "gold in them thar hills" that English folklorists Cecil Sharp and Maud Karpeles had been collecting since the early 20th Century.
Unlike the vast majority of guitar slingers who performed this music without a lot of musical or instrumental finesse, Guy was a first-rate musician who performed it on banjo in traditional old-time style learned from masters like Dock Boggs and Uncle Dave Macon and most distinctively on hammer dulcimer—which provided the best introduction to Guy's most personal and universal musical treasures. Just as Jean Ritchie was most responsible for bringing the mountain lap dulcimer into the modern folk repertoire, Guy Carawan was most responsible for bringing the hammer dulcimer into popular awareness. Guy's virtuosity on this instrument kept out the tourists; you could sing along with Guy to your heart's content, but I never heard anyone try to "play along" with him; it was a privilege to just sit there and listen. Guy's son Evan now carries on his father's musical legacy with the hammer dulcimer.
You didn't have to go to Highlander to hear him either; Guy and Candie both came out to Los Angeles where I was fortunate enough to travel around with them to local schools and observe their school assemblies and classroom visits. It was Guy who taught me how important it is to connect with students through language as well as music. He would look around the room like a bank robber casing the joint, to know what song to break the ice with. I will never forget how we went to one school and it looked like it would be the last place in the world to relate to his southern mountain songs, white or black. So
Guy opened with De Colores in the original Spanish and had them in the palm of his hand from the first note. Then he would talk to them about what the song meant to Cesar Chavez and how its refrain "this world of many colors is the one I like" spoke volumes and were words to live by. And he would then communicate in music's universal language, performing pieces on the hammer dulcimer to which there were no words, and none needed. By that time the students were all ears, and having been shown respect for their world, they were only too eager to be introduced to his worlds of music from the American south and the civil rights movement. Guy engaged them in a musical conversation, not just a performance. It was beautiful to see.
Nor did he play only the serious songs for which he is best known. Guy—more than most folk singers I have admired—had a lovely whimsical sense of humor that made him a favorite children's artist as well. He regaled the kids with a new song he had just recorded called "My Rhinoceros." Laughter is another universal language, and he brought it out in full measure. He gave a great performance—as meaningful to those students as any I have heard.
My first connection to Guy was in being honored to actually play him in a local production of my friend Angeline Butler's Voices Of the Student Sit-In at The Church In Ocean Park. Angeline was an original participant in the historic Nashville Sit-Ins in February of 1960; she is one of the faces seated around the lunch counter in news photographs of the groundbreaking civil disobedience—since black people were prevented from being served at the all-white restaurant. Guy wrote a great song about this historic moment in the civil rights movement called Ballad of the Student Sit-Ins, and I got to sing it in the play: "Sisters sit with dignity/Brothers sit with pride/Side by equal side." He summed up the civil rights movement in one simple refrain. I also sang (with Angeline) one of my favorite songs he collected from the Johns Islands off the coast of South Carolina—Ain't You Got a Right? Its simplicity belies its universal appeal: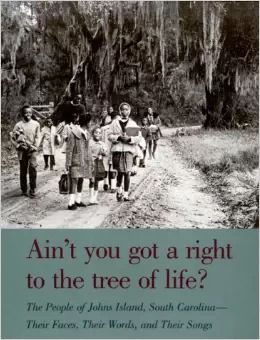 Ain't you got a right [call-and-response:] (Ain't you got a right?)
Ain't you got a right (Ain't you got a right)
Ain't you got a right (Ain't you got a right?) to the tree of life.
It's a gorgeous spiritual, and the title song from Guy and Candie's songbook from the islands. To this day I can't think of Guy without remembering that song. I will now sing it in his memory.
Guy was the living embodiment of what Pete Seeger represented as an artist, but you could hear Guy not only from the Greek Theatre stage, but from an elementary school in a poor Chicano neighborhood where they had no idea they were listening to one of the best musicians in the entire country—he was par excellence the grassroots troubadour who brought folk music to the people—and handed on the tradition to the next generation of performers so it could continue to nourish the souls of everyone with a sense of beauty and truth, and what Richard Farina called the Quiet Joys of Brotherhood. Guy helped make me the folk singer I am today, and for that I will always be grateful. He was my kind of guy.
Guy and Candie's daughter Heather lives in Riverside, which occasioned many of their visits to Southern California, and Heather produced the best visual introduction to his music, a wonderful film documentary called The Telling Takes Me Home (after Utah Phillips song).
Hopefully therefore we will have a memorial for Guy out here as well as the one being planned at Highlander. Two other local contacts make that likely to occur: Author and Professor Peter Dreier was instrumental in giving Guy an honorary degree from the school he graduated from, Occidental College. And of course Ed Pearl, who brought Guy and Candie out here for a major fundraiser for Highlander a few years ago, would want to participate. When Guy performed and was honored at this benefit for what is now the Highlander Education and Research Center, Ed was visibly and audibly moved by the sheer beauty of his singing voice; "Guy had the most beautiful tenor voice then, and he still has it now."
To FolkWorks readers, therefore, stay tuned. This is only the first of what are sure to be further local tributes in memory of folk singer Guy Carawan. No one deserves it more.
On Sunday May 17 Ross Altman will perform at the Topanga Banjo-Fiddle Contest in Paramount Ranch, on the Railroad Stage at 4:00pm. It will be a Centennial tribute to the music of Joe Hill and the IWW, as we approach the 100th anniversary of his execution in Salt Lake City November 19, 1915.
On Saturday May 30 Ross will perform in concert and a workshop on protest songs at the Claremont Folk Festival.
On Saturday, June 13 Ross performs his one-man show Of Thee I Sing: the Magna Carta @ 800 at 2:00pm at the Allendale Branch Library in Pasadena, 1130 S. Marengo Ave., Pasadena, CA 91106; 626- 744-7260.
On Sunday, June 14, at 7:00pm, Ross with special guests Carolyn Hester and Len Chandler perform the second show celebrating the 800th anniversary of the Magna Carta at Beyond Baroque Literary Arts Center, 681 Venice Blvd. Venice, CA 90291; 310-822-3006; $10.
Los Angeles folk singer Ross Altman has a PhD in Modern Literature. Ross may be reached at greygoosemusic@aol.com
https://folkworks.org/wp-content/uploads/2020/11/The_Telling_Takes_Me_Home.jpg
332
417
Steve Shapiro
https://folkworks.org/wp-content/uploads/2020/11/FolkWorks-logo-large.png
Steve Shapiro
2015-05-09 04:30:42
2020-11-02 14:08:07
MY KIND OF GUY – GUY CARAWAN